Mendocino Outdoors, Fifth Edition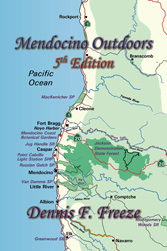 After four editions in print, I've turned my guidebook, Mendocino Outdoors, into an ebook, published in April 2017. You can buy a copy at Smashwords.com, the Apple iBooks Bookstore, Amazon's Kindle Books, and Barnes & Noble's online store.
The Fifth Edition of Mendocino Outdoors sets a new standard for guides to outdoor activities on the Mendocino Coast. It covers all of the parks and preserves in the area, from the Lost Coast to Gualala, plus some inland jaunts to the wine country and some of the tallest trees in the world. The guide is filled with full-color maps of all the areas described in the book, as well as photographs to show you why you want to visit the various locations.
The Fortune Cookie project is a rewrite of the old Unix file-based fortune cookie program. My version is a WordPress plugin with an Import function and a starting library of a thousand quotes and aphorisms. [More on Fortune Cookies Plugin]