About DFF
I am the principal in Monolith Design: Dennis F. Freeze, also known as DFF.
DFF's Resume DFF on LinkedIn DFF on Twitter
I am a computer scientist and developer, and I've been programming for most of my life. After college, I worked as a software developer, including 15 years as a researcher at HP Labs. I worked on software tools and environments, multimedia user interfaces, and usability of computer systems, and I've published work on hypertext systems and multimedia interfaces. I'm fluent in multiple languages, including Javascript, PHP, Java, C++, Lisp, and COBOL. When I joined HP Labs, I actually went from writing COBOL straight into writing Lisp, which was a most interesting (and radical!) shift.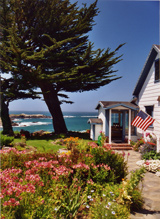 My second career was being owner and operator of Agate Cove Inn, an upscale Bed & Breakfast Inn in Mendocino, CA. I was responsible for running the kitchen, including menu planning and cooking breakfast. I also designed the new layout when we remodeled the inn's kitchen. I even studied at the California Culinary Academy in San Francisco, although I didn't finish — I had to settle for on-the-job training because we bought the inn. As is necessary in the B&B industry, you have to wear a lot of hats: in addition to the kitchen, I worked on guest relations, marketing, graphic design, Web design, and interior design for my inn. I served on several nonprofit boards during this time, including the Mendocino County Lodging Association (President), Mendocino Business Association (President), and the Kelley House Museum (board member). I played a leading role in founding a county-wide Business Improvement District to promote tourism.
After selling the inn, I took up freelance Web and graphic design. I enjoy building custom back-end functionality in WordPress: it's easy to pass data between browser and server, and you must know Javascript and PHP to be effective. I work a lot with WordPress: writing themes, plugins, and custom code (PHP and Javascript) for Web sites. I've deployed responsive WordPress-based sites for a number of businesses, including KOZT.com, The Drawings of David Rosenmann-Taub, and The Poetry of David Rosenmann-Taub. I am also the creator of MendocinoFun.com, a Web site + blog devoted to the Mendocino Coast of Northern California. I taught Web design for 3 semesters at College of the Redwoods, and you can even see some of the materials that I created for my Web Design class. here on this site.
I have extensive experience designing for Print (postcards, brochures, newsletters) using Illustrator, Photoshop, and InDesign. I wrote, illustrated, and self-published a guidebook to the Mendocino Coast, selling over 5000 copies in 4 editions. I am also an avid photographer – see the Photo Galleries.
I served for 2 years as a consultant to the Fort Bragg (CA) City Manager. I analyzed site requirements, interviewed stakeholders, matched requirements to vendors, and served as liaison to CivicPlus before and after the launch.
Follow me on Twitter as @dffmonolith.
On the Lighter Side
I am an avid cook. I make pretty much everything from scratch, and I love the process of preparing and cooking things. I was fortunate to be able to take classes at the California Culinary Academy in San Francisco while my wife and I were preparing to buy our B&B. We never got to finish, though, because an amazing inn came up for sale in Mendocino, CA. Fortunately, my love of cooking survived the intensity of innkeeping, and I am again creating my own recipes and working on my cookbook.
I hold a brown belt in Shotokan Karate, earned under Sensei Irv Ploke in Cupertino, CA.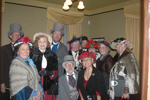 I am also a singer—a second tenor, to be precise. When I first moved to Oregon, I sang in the Oregon Chorale for several years. I'm also a member of the Light Opera of Portland troupe (also President and Board Chairman), and I've served as technical director for several productions. I sang a lot when I lived in Mendocino: Eclectica: a mixed quartet that sang a wide range of complex and wonderful music; College of the Redwoods Community Chorus; Sine Nomine (co-founded this 12-person mixed ensemble); Acafellas (9-man all-male group); and Gloriana Musical Theatre (I sang with the caroling group for 12 years, and even directed one year). I also sang in the chorus in a short-run production of Gilbert & Sullivan's Trial by Jury.
About Standing Stones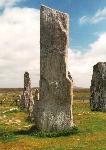 I have been fascinated with standing stones for as long as I can remember, and have visited many ancient sites in Scotland, England, and Wales. This gallery shows a sampling of sites, including Avebury, Stonehenge, Merrivale (in Dartmoor), and Callanish. The Monolith from Callanish, after which my company is named, is supposedly the inspiration for the Monolith in "2001: A Space Odyssey". I received an email some years ago from a producer at BBC who was working on a documentary about Sir Arthur C. Clarke. He found this reference on my site, and asked for documentation of it. Unfortunately, I read that many years ago, and I was unable to find the source. I like the idea of it, though, even if it's not true.
These pictures are all from Callanish, in the Outer Hebrides (Scotland). I was thrilled to get to visit Callanish; it's 4 hours by ferry from Scotland. We were there for the Summer Solstice, although that was completely coincidental (and there are no major alignments for the solstices anyway).
The first picture is from Avebury, my personal favorite of all sites. The other picture is the Men-An-Tol stone in Cornwall, which reputedly cures illness when a person passes through the stone three times.
These pictures are from Merrivale in DartMoor—a most eerie place in the fog, especially when alone!
These pictures are from Stonehenge.
Contact Me